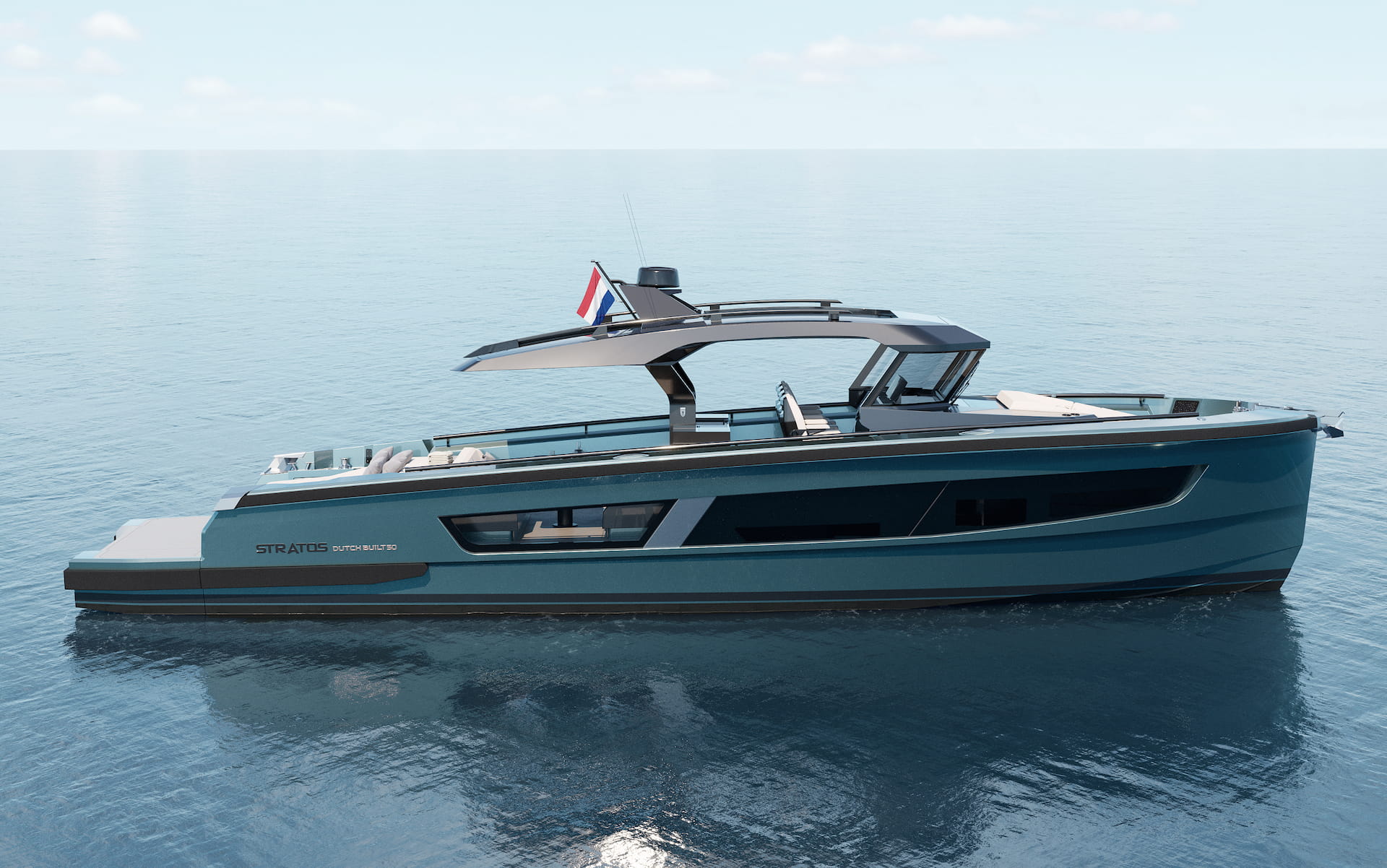 Stratos Yacht unveils their first model, the Dutch Built 50
08.12.2022
PRESS RELEASE
Stratos will be introducing a new benchmark for the 50 ft yachting category with the arrival of the Stratos Dutch Built 50. A vessel built to superyacht standards and beyond, the Dutch Built 50 outrivals its competitors with its superior quality and supreme seaworthiness. As founder Bas Lengers highlights: "I can say with complete confidence that the Stratos Dutch Built 50 is the most seaworthy vessel in its class."
Press release, December 8th, 2022 – The new Dutch brand Stratos has just unveiled its first model: the Dutch Built 50, which introduces a cutting-edge benchmark for the 50 ft yachting segment.
Dedicated to never compromising on any aspect of its design, every single decision: from quality to performance, to functionality and seaworthiness, has been based on one clear goal: creating perfection. The outcome is a vessel with exceptional seakeeping abilities, seeing it rise far above the best in class.
The Dutch Built 50 realises the lifelong dream of Bas Lengers: the pioneer behind Stratos Yachts as well as CEO of the international yachting company Lengers Yachts. He pours 40 years of international nautical experience into this unique vessel. "I felt the 50 ft category needed a tough, resiliently robust vessel, one that is truly seaworthy and built to superyacht standards. A yacht that could cruise with ease even in the toughest of weather conditions: an SUV on water."
From every angle down to the finest detail, the Dutch Built 50's seaworthiness, quality, performance and functionality were considered with perfection in mind. Bas Lengers' vision, combined with his 40 years of nautical experience and passion, come together in this 15-meter vessel that can reach up to 36 knots in speed. The yacht is created by Dutch designers and naval builders who have proven to excel in their profession. Lengers' ideas and inspiration have been brought to life by yacht designer Bernd Weel and are fully engineered by naval architects of Sea Level. "I am very excited about this project, as the engineering goes way beyond the current superyacht standards," states Jeroen van der Knaap, designer at Sea Level.
In order to make the boat as strong and robust as possible a special grid has been designed, which is rare for a yacht of this size. The hull is constructed out of extra dense, high-end composite materials, with its structure created using lightweight carbon. As a result, the center of gravity is low, which contributes to the stability and unique sailing abilities of the vessel. The incredibly high-quality build has resulted in the yacht being awarded a CE class A rating, meaning it can handle winds of over Beaufort Force 8 and waves above 4 meters. A remarkable achievement for the concept.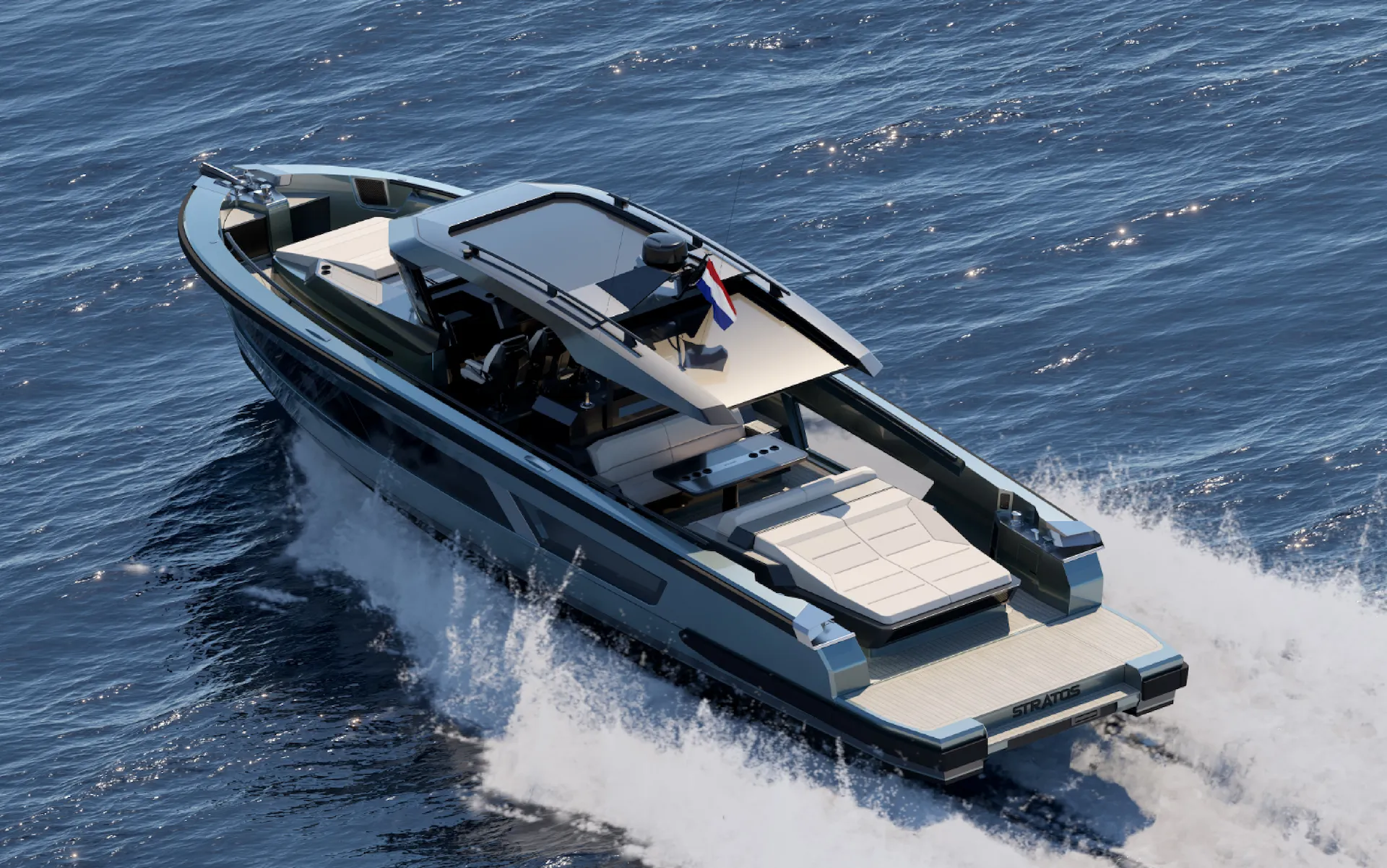 In the hull, large windows immensely enhance the experience of feeling connected with the water from one's seat. Every detail has been carefully considered, every aspect elaborated, with no shortcuts taken. Lengers: "The hardtop alone took over a year of research and engineering."
This level of due diligence has resulted in the creation of an impressive carbon hardtop with an automated sunroof, giving the freedom to cruise in the sun whenever one desires — something you rarely see in vessels of this size. The same applies to the spectacular nautical range of 400 to 450 miles.
Every possible need has been considered, with most flawlessly incorporated into the design and specially fitted for the concept. One sees this evidently reflected in the indestructible stainless steel wet bar and the ergonomic pilot seats with shock absorption, ensuring you can sail in the roughest waves with utmost comfort and ease.
Personalization of the exterior can be done by color selection, with a choice of twenty-five different colors, with both metallic and non-metallic options. The exterior cushions and teak colors are also customizable. Personalizing the interior is also possible, with a choice of three different color schemes. Plus, there is a wide range of options to a superyacht level, with the possibility of even fitting a hydraulic submersible swim platform.
"Stratos is for those who want the best of the best", says Lengers. "In terms of service, we also want to achieve this. In doing so, we will go beyond standards and offer extraordinary services that will provide customers a worry-free experience. So that they can focus on what truly counts: enjoying the trhill of cruising on the open waters."
The yacht, as Lengers affirms, is built to perfection: "Truly everything has been thought of, with all elements flawlessly realised — no compromises are made. Stratos does not do mass production, which will result in building a limited number of yachts each year to ensure we adhere to our strict quality standards. We will not work under time pressure: all yachts will be built to perfection, making them the finest yachts in their class, with every detail having been carefully considered." One sees this in the impeccable finish: it's in a league of its own. For instance, the interior, which sleeps four, is of supercar GT quality. Indeed, the Stratos is a yacht you can take out at any given moment — dominate the seas is the slogan for a reason.
It's a yacht that will not only make waves at sea, but it will also make waves throughout the entire yachting industry.
About Lengers Yachts
Lengers Yachts, idyllically located on the waterfront overlooking the Muiderslot, was founded in 1970. Since then, this player in the luxury motor yachts sector has significantly grown and expanded internationally, without losing an inch of its family-oriented character. Now with 7 offices in 5 different countries, Lengers Yachts is an official dealer of the high-end brands Sanlorenzo, Prestige, Bluegame and SACS, covering all markets. At each price point, the company can offer a vessel – new, pre-owned, trade-in and brokerage. Lengers Yachts not only offers a fine selection of yachts (which now includes its own Stratos brand) but it also offers a warm welcome, with a stress-free experience guaranteed. Every single aspect is taken care of, so you can let your worries melt away and focus on what really matters: enjoying life at sea.
END OF PRESS RELEASE
Note to editors (not for publication)