The Company
Unsurpassed in any weather condition
Unparalleled Seaworthyness
Iconic Dutch Craftmanship
Exceptional strength & finishing
Unsurpassed in any weather condition
Unparalleled Seaworthyness
Iconic Dutch Craftmanship
"Stratos builds with perfection in mind, no compromises are made."
Our vision was always clear: to elevate the seagoing experience to a new, extraordinary dimension, addressing the clear gap in the market for resiliently tough vessels with supreme seaworthiness. And thus Stratos was born.
At Stratos, we build to outperform even the highest superyacht standards. Our vessels are technologically advanced, powerfully built and constructed with flawless precision. Every single decision, from exceptional design and performance down to its unparalleled seaworthiness and functionality, is made with perfection in mind — no compromises are made.
Setting a new benchmark for luxury living requires nothing short of greatness, and this results in our powerful vessels: dynamically robust with exceptional seakeeping abilities, ready for mind-blowing performance at sea at any desired moment.
Stratos is for those who seek excellence not only from their vessel but in the service they receive. During every stage of the buying process and beyond, we take care of your needs, so you can focus on what truly matters: imagining and then enjoying unrivalled bliss at sea.
Unsurpassed in any weather condition
Unparalleled Seaworthiness
We transform bold ambitions into impeccable seaworthy design and engineering through our meticulous attention to detail, resulting in Stratos being awarded the highest seaworthiness classification (CE-A). Stratos achieves the remarkable in even the most challenging of weather conditions, enabling you to go anywhere, at any time. Your imagination becomes the only limit.
Iconic Dutch Craftmanship
Built in a country world-renowned for its superior shipbuilding, Stratos yachts are naturally a masterpiece of Dutch design. Providing the uncompromising performance and quality you would expect from a Dutch pedigree, Stratos is both powerful and progressive, setting a new standard. Get ready to grab life by the helm, one euphoric experience at a time.
Exceptional Strength & Finishing
Stratos' strength and superior finish, having been constructed from the most resilient, highest-quality materials, ensures this vessel is ready to rule on the open waters even in the toughest of weather conditions. Bold and defiant by nature, Stratos will undoubtedly exceed your expectations regardless of the environment or challenge.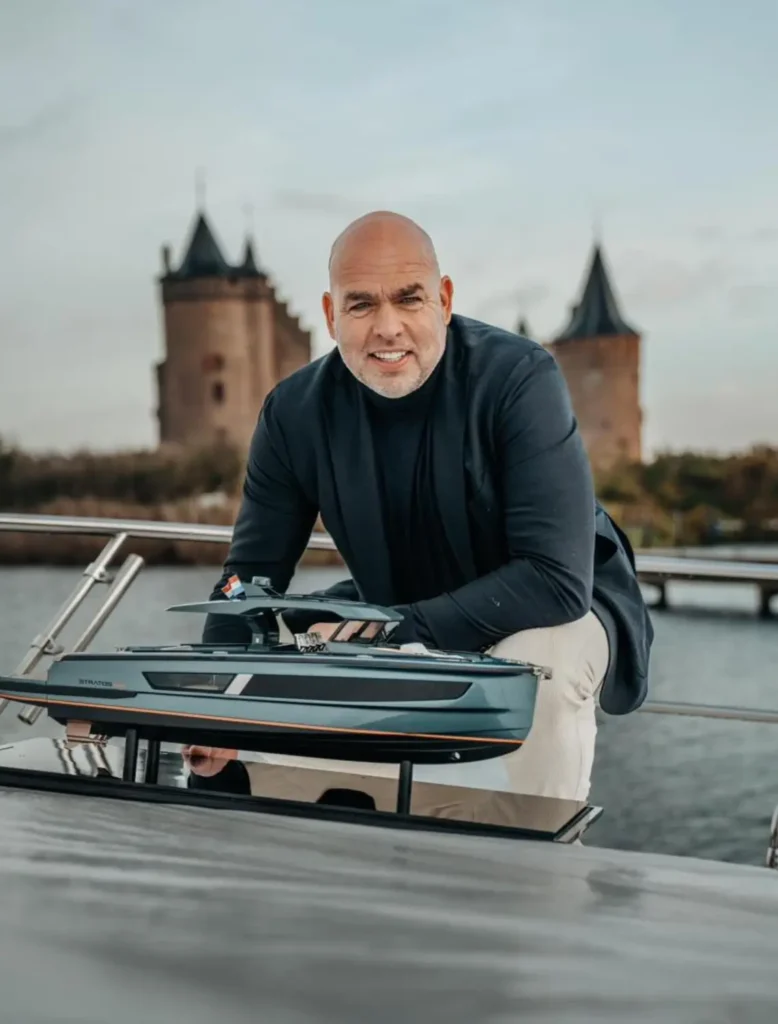 Bas
Lengers
Founder
Our founder has always had a deep affinity with watersports, inspiring a lifetime of passion dedicated to life at sea. Bas brings unparalleled expertise to Stratos, having served 40 years delivering extraordinary yachts with exceptional service as CEO of the renowned Lengers Yachts. It is Bas's leadership that ensures strong relationships with every customer, with the ability to turn purchases into lifelong, family-like bonds with clients.
His unmatched grip on the industry is demonstrated by his phenomenal sales ability: he has consistently proven to be one of the world's top sellers for leading brands like Sanlorenzo, Bluegame, Prestige and Sacs. Pursuing a lifelong dream to develop his own yachting brand, Bas saw the perfect opportunity to bring this vision to life when he identified a clear gap in the market. To create a resiliently tough vessel that combined robust strength with unmatched seaworthiness: luxury yachts built on a superyacht level. And thus Stratos was born: luxury yachts that Bas can say with immense pride are the most seaworthy vessels in their class.
"We only choose partners who excel in their profession on a superyacht level, ensuring a perfect match. At Stratos, time is not of the essence — we build the yacht to perfection, down to the finest details. That's why Stratos is not for everyone, as we build a limited number of vessels each year, so we ensure that we provide no less than the very finest yachts in their class".
Paul
Verheij
Brand Manager
Following a highly accomplished career in the luxury car sector spanning more than 20 years, including being awarded 'Best Performing Brand Manager' for Bugatti, Paul brings his zeal for delivering the extraordinary to clients to his role as Brand Manager for Stratos.
Venturing into the luxury yachting sector was a natural next step for Paul, as he continues his dedication to providing clients with unforgettable moments in show stopping vehicles, and now transferring this passion onto incredible vessels at sea.
"Giving clients an unparalleled customer experience is what I take most pride in. Stratos is undoubtedly the best-in-class and it's only right that the service matches this level of superior quality: a blissfully stress-free experience in all stages of the buying process, as well as beyond purchase".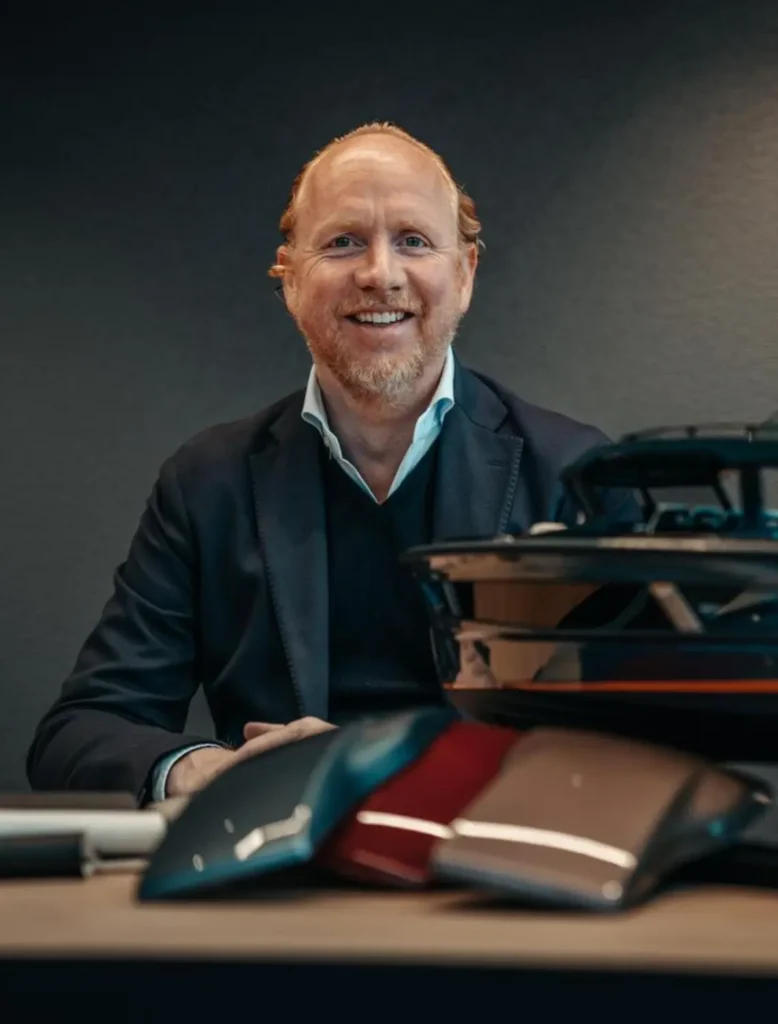 Bernd
Weel
Designer
Bernd draws on his extensive cross-sector knowledge to push design boundaries that delight clients. Having always had a deep devotion to all aspects of design, from architecture to automotive, he mastered his skills to perfection in Italy, before establishing his own independent design studio in 2013 specialising in custom yacht design for motor yachts.
Bernd has built an impressive portfolio having worked among the most prestigious professionals in the yachting industry and loves to inspire the client through direct involvement in the process, providing authentic hand-drawn sketches of their dream vessel, which are then developed into high-quality 3D surface models.
"Stratos is undoubtedly one of the projects I'm most proud of. It was a thrill to work closely alongside the highly accomplished and innovative Stratos team, as we could easily bounce off new and unique design ideas with one another. We also all strived towards a common goal: of never compromising on producing the very best possible design solution for this remarkable vessel".
Jeroen
van der Knaap
Naval Architect
Jeroen's fascination with yachting became clear from a young age: at just 10 years old he was already helping to wash boats. This soon turned into studying shipbuilding at university, and now Jeroen is an acclaimed naval architect for Stratos Yachts, making masterpieces of innovation with the dedicated team.
Jeroen is also the co-founder of Amsterdam-based naval architect company Sea Level B.V. and has more than 24 years of experience specialising in high-performance boats, composite engineering and feature integration for superyachts. He boasts an impressive portfolio of clients too, including Feadship and Heesen Yachts.
"Stratos is a particularly special project for me, as the engineering and detailing often go further than the superyacht standards. Every decision is based on what is the best possible result, not the best possible price. We've built up a committed team with a shared dedication to creating this wonderful vessel, and I'm thrilled to be a part of it".
Erwin
Rodewijk
Production Manager
For Production Manager Erwin, yachting has been a big part of his life from a young age, having been born into a family passionate about yachting — even with a harbour at home! Prior to joining Stratos, Erwin honed his craft for 10 years as an engineer at Lengers Yachts, working with many renowned international brands on a technical level.
"In my years of expertise, I've noticed that the most beautifully designed vessels are often lacking on a technical level, which is detrimental to their sailing characteristics and ease of use. This is dramatically different at Stratos, where there are no limits. Down to even the smallest of details we go above and beyond what is expected, ensuring the ultimate level of freedom at sea for our clients. Dutch yacht building truly excels and we aim to rise above superyacht standards with Stratos."
Leen
Schaap
Composite Expert
Leen lives and breathes watersports, and has done so ever since childhood. His professional career on the water first began 44 years ago, when he first gained experience with composite materials building surfboards, before he turned his attention to the yachting sector, founding the revered Schaap Shipcare in 1990. Leen is famous for building award-winning ocean racing yachts, having built two 2 ABN boats that subsequently won the world-renowned Volvo Ocean Race. Schaap Shipcare is also a trusted yacht repair, maintenance and winter storage facility in Lelystad, which has recently been acquired by the Lengers Yacht family in 2022.
"It is with great pleasure to head the composite department of Stratos. It truly is an exciting project to be a part of, and a wonderful challenge to create a vessel built to perfection, that is nothing short of excellence."